Coconut Shell Wholesale
Of course, the Coconut has been around for millions of years. In fact, the Cocos Nucifera has been traced back in history for over 37 million years. This is a fruit that is indigenous to tropical islands where it had been first discovered centuries ago. Although there will be a number of locations around the world that claim to be the original discovery point, coconuts populate tropical islands from Malaysia, the Philippines, Australia, Japan, the Hawaiian Islands, South America, North America, Thailand, and everything in between..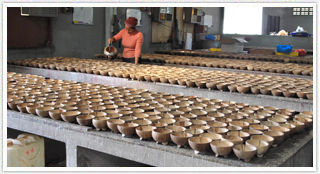 If you need only coconut shell which already polish and ready to pour candles. You can contact us for bulk purchase of only coconut shell without candles.
You will obtain our best attention on inquiry, follow-up, special requests and guarantees. We can be reached 24 Hrs. a day. Contact us at wasila@wasila.co.th